Zaisa Office Tower
The tower houses Zaisa´s headquarters and rental office space. Defined by his high performance façade and sky gardens, it has become Zaisa´s most recognisable image.
Zaisa´s headquarters are located at the two upper floors of the eight storey tower. The last floor provides two garden terraces. Open but protected by the facade, both terraces are connected by a wooden path and are easily accesible, creating unique common zones that encourage employees to meet.
The tower is inserted in front of a building that has a crescent like facade, and on top of a previously existing underground parking. When the parking was built, some pillars were raised from the ground level waiting for a future development. The first volume of the tower is an elliptical base that groups the pillars that come from the parking. On top of this ellipse, eight stories of offices are located. Both volumes have a different structure that is connected by a W which also points the building´s entrance.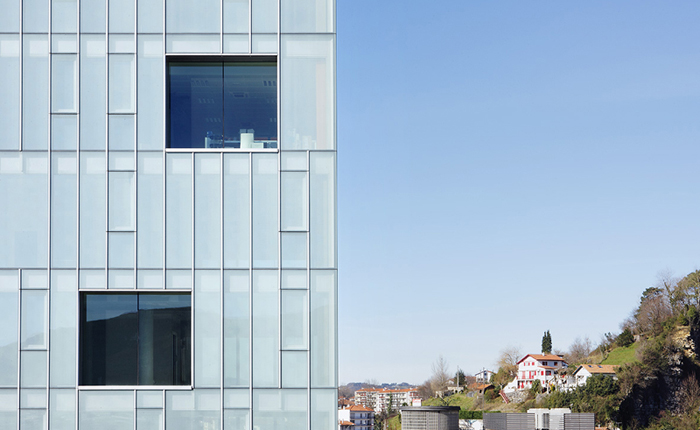 The facade transforms the typicall curtain wall facade into a sensitive object. Thanks to its double layer, the facade not only assures great thermal insulation and solar protection but it also acts as an active heating/cooling device since the air that flows between the layers can be driven to the interior. The facade is composed of three different modules arranged in a sort of mullion forest that is cut by big, simple layer openings, a composition that provides depth and rhythm.
Location: Behobia, Irun. Zaisa Transport Platform / Architecture: Angel de la Hoz, Cristina Fontán / Collaborators: Gurutze Aldanondo, Ángel Álvarez / M/E: Juan Murua / Structure: Jose Antonio Gurruchaga / Constructor: Altuna y Uría s.a. / Links: dezeen archdaily inhabitat plataforma arquitectura carbon stamp Arqa experimenta