Mungia House
The house is located in a plot of land with a steep slope in a residential urbanization near Mungia. Taking advantage of the plot's unevenness, it is divided in two staggered levels. The first level gathers the access, garage and guest's room, whereas the second level, partially buried, holds the kitchen, dining room, living room and the main bedroom. This layer configuration has a continuation in the garden, where one can find the swimming pool.
The union between the house's different levels is established by means of stairs and a ramp. While the stairs reproduce the slope's direction directing the view to the exterior, the ramp is conceived as an interior space, developed perpendicularly to the slope and making the most of the maximum height and available natural light. It offers a singular space destined to exhibition and contemplation of great pieces of art.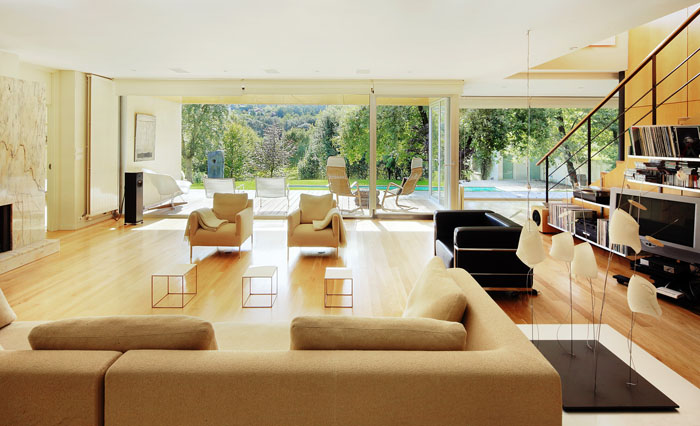 In its lower part, this ramp-gallery gets blurred to form part of the lounge, which receives natural light from the very ramp, and is closed with a wide glass cloth in its other end, combining the sensation of protection with the opening to the landscape.
2000 / Ubicación: Munguia, Bizkaia / Arquitectura: Ángel de la Hoz / Colaboradores: Ángel Ávarez / Aparejador: Victor Elorduy / Estructura: Germán Goieneche / Instalaciones: ENEKA s.l. / Constructora: Construcciones Eizategui s.l. / Fotografía: José Hevia / Links: homify